Advantages
The Osmomat 3000 can be controlled easily and comfortably via a touch screen display.
Step by step user guidance through all measurement functions.
QM assistance for the laboratory supervisor.
2 or 3 point calibration.
The results are sent to the optional built-in printer in document-ready format.
For data transfer to a PC it can be connected via USB or RS232.
The last result remains available for reading even after automatic switching to stand-by mode.
The robust design of the measurement equipment makes the Osmomat 3000 easy to handle and maintain.
Choice of language.
Automatic calibration by using Gonotec calibration standards.
Key data
Display

LCD - touch screen

Cryst. process

By means of the tip of a stainless steel needle covered with ice crystals which is controlled automatically

Cooling

By means of two separate peltier cooling systems with heat dissipation by air

Lower cooling system

Electronic temperature regulation, deviation < ±0.1 ºC

Sample volume

50 µl (optional 15 µl)

Test time

60 seconds

Sample capacity

single sample

Units

mOsmol/kg H2O

Resolution

1 mOsmol/kg H2O

Range

0 up to 3000 mOsmol/kg H2O

Linearity

Less than ±1 % from a straight line
between 0 and approx. 3000 mOsmol/kg H2O

Reproducibility

≤ ±2 digit [0.. 400] mOsmol/kg H2O
≤ ±0.5 % [400.. 1500] mOsmol/kg H2O
≤ ±1.0 % [1500.. 3000] mOsmol/kg H2O

Ambient temperature

10 ºC to 35 ºC

Power supply

100-240 V, 50/60 Hz, 45 VA

Dimensions

220 × 205 × 360 mm

Weight

approx. 6,4 kg
Measurement: Freezing point osmometer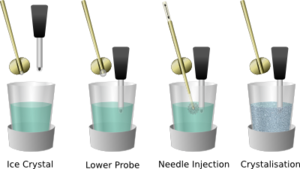 The total osmolality of aqueous solutions is determined by comparative measurements of the freezing points of pure water and of solutions. Whereas water has a freezing point of 0 °C, a solution with saline concentration of 1 Osmol/kg has a freezing point of -1.858 °C.
Applications
General medicine
Routine and research
Forensic medicine
Electron microscopy
Physiology
Clinical laboratories
Intensive care laboratories
Paediatrics
Gynaecology
In-vitro Fertilization
Urology
Nephrology
Haemodialysis/Haemofiltration
Veterinary medicine
Botany
Pharmacy
Dispensaries
Option D consists of a graphical needleprinter which prints data, time and sample information for every measurement.
Printer

Graphical dot matrix-printer date, time and sample information on each measurement

Digits

≥ 16 characters per row

Paper

normal paper, 43 mm wide

Print modes

single printing, batch printing

Ink ribbon

endless ink ribbon cassette, exchangeable

Errors

printed in plain text
Using the Option M even smaller sample volumes can be measured.
Sample volume

15µl

Reproducibility

≤ ±2.0% [0..3000] mOsmol/kg H2O